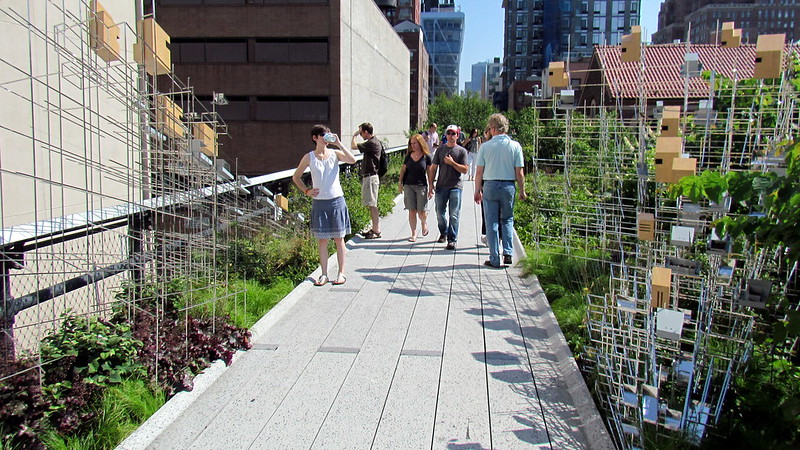 This may seem like a trick question, but do you know why we have sidewalks? There are many good answers and one surprising one. Among the good answers: to keep pedestrians safe from cars, scooters, and bicycles; to help merchants welcome people to their stores; to guide children to and from school; to encourage healthy habits like walking; to create a place for sidewalk dining; to make transit accessible for workers and residents.
And now the surprising one: for public health. And this was the reason that sidewalks were built in the 1800s in Paris and London—well before automobiles became part of the urban landscape—and later copied in American cities like New York. In those years, animals shared streets with pedestrians and streetcars, and their droppings were everywhere. The smell was intense, and the mess on shoes offensive. At about that time, germ theory made people aware of the dangers that animal wastes posed.
So, starting in Paris in the 1850s, cities created raised walking areas where animals and commercial traffic were not allowed. These paths were alongside the new boulevards of Paris and through its parks. Visitors from other cities like London and New York were struck not only by how well the sidewalks solved the health problems, but how they also encouraged people to walk for enjoyment.
As automobiles crowded into cities, sidewalks in America found a second purpose, which was to get pedestrians out of their path. Until the 1920s, people regularly walked in streets, dodging horse-drawn wagons, streetcars, and the newcomer, the car. (For a glimpse of what this was like, view this video of New York from 1911, starting at the 1:28 mark.) As autos grew bigger and faster, fatalities involving pedestrians soared, and a movement to ban cars from city streets sprang up.
But car makers had a completely different idea: Get the pedestrians out of the streets and onto sidewalks. For this, they created the idea of jaywalking—that is, of pedestrians foolishly going where they no longer belonged, which was into the street. City and state governments accepted this notion, passed laws against jaywalking and encouraged the building of sidewalks and crosswalks.
What they did not do, in many cases, was accept responsibility for actually building or maintaining the sidewalks they wanted. Unlike street and roads, which are clearly a government obligation supported by taxes, sidewalks in most cities are paid for and maintained by property owners. If it snows, the person owning the adjacent property is supposed to clear a path, even as a city snowplow cleans the street in front.
Once cars thoroughly dominated city and suburban streets after World War II, sidewalks declined in importance as people drove to places they could have walked. Entire subdivisions were built in the 1960s, 1970s, and 1980s without sidewalks or pedestrian paths of any kind.
But things began to change in the 1980s, as a concept called New Urbanism took hold among city planners, downtown advocates, and visionary developers. Among other things, it preached that walkability was one of the most important components in making cities desirable. This created new interest in sidewalks and new demands for them.
But sidewalks aren't the only contributors to walkability. In the 1980s, the idea of urban trails also took hold, starting with the "rail to trail" movement, which sought to turn abandoned rail lines into walking and cycling trails. Some of these trails are long indeed, running through metro areas and far into the countryside. (The Katy Trail runs 240 miles across the midsection of Missouri.) But most are much shorter and connect urban neighborhoods. Some of the most famous big-city trails are the High Line in New York, the 606 in Chicago, and the BeltLine in Atlanta.
It's worth noting that sidewalks and urban trails create what economists call "positive externalities." That is, they produce more social benefits than they cost to build. Some of the externalities were mentioned early on: better health and safety, less pollution among those who walk or take transit, greater enjoyment of and attachment to a city, and so on.
But there are others. By having more people out walking, you have more "eyes on the street," which some believe makes neighborhoods more resistant to crime. Others say walking contributes to neighborhood sociability, which reduces loneliness and despair.
One thing is clear: Walkable neighborhoods have higher real estate values. Retailers pay 75 percent more in rent for a store in walkable neighborhoods than for similar locations in a shopping center, one study shows. And housing prices in walkable neighborhoods are nearly twice what they are in neighborhoods that can be accessed only by cars.
However they are built and maintained, then, sidewalks and urban trails are good investments for cities, returning far more in social benefits than they cost. And they exist almost entirely because governments mandated or built them. For that we can thank government.
More information:
https://en.wikipedia.org/wiki/Sidewalk
https://www.changelabsolutions.org/sites/default/files/UrbanTrails_FactSht_20141106.pdf
https://www.fastcompany.com/3062989/50-reasons-why-everyone-should-want-more-walkable-streets
https://cpb-us-e1.wpmucdn.com/blogs.gwu.edu/dist/a/326/files/2019/06/FTA19.pdf
Give the credit to: local governments 90%, state governments 5%, federal government 5%
Photo by David Berkowitz licensed under Creative Commons.